The ExScan1000 is a precision Ultrasonic thickness gauge. Based on the same operating principles as SONAR.
ExScan1000 Intended Use
The ExScan1000 is a portable ultrasonic thickness gauge that provides accurate thickness measuring of various materials, along with the scanning of a test piece to record its minimum thickness value.
The instrument is intended for use in a wide range of industries to evaluate the wall thickness of tanks, pipes, body parts, plates, beams or support structures, as well as to monitor the condition of corroded surfaces, even with single-sided access to the test piece.
The device has an ergonomic and user-friendly design. During on-site operation, the shape and material of its case allow holding the thickness gauge firmly with one hand only.
Due to IP65 water- and dust-proof rating, as well as display backlight, the instrument can be used in extremely harsh environment.
---
Key Features
Large characters on the backlit display make reading easy even in poor light conditions.
The ExScan1000 can run up to 200 hours with a single battery pack.
Two-point calibration and automatic measurement of ultrasonic wave propagation ensure high-precision results.
Display backlight can be automatically turned On/Off to prolong the battery life.
The Sealed membrane keypad that is resistant to oil and petroleum products with six tactile-feedback keys makes the instrument operation more comfortable.
The ExScan 1000 kit includes a rubber shoe to protect the probe and minimize a potential impact of hand warmth on measurements.
The instrument is compatible with a wide range of UT probes / transducers to measure various levels of thickness and shapes of test pieces.
Basic applications
Thickness measurements for various materials.
Detection of corrosion pits.
Recognition of material laminations.
Search for thinned walls in a test piece.
Industrial sectors
Power generation - measurement of wall thickness in pipelines, pipe elbows, base materials (semi-products), as well as thickness of near-weld zones in pipe joints.
Aviation - measurement of wall thickness of aircraft steel parts and portholes (windows) with single-sided access to the test piece.
Metallurgy and machinery - measurement of wall thickness of slabs and strips; sample check of wall thickness of rolled plates; measurement of wall thickness of boilers, tanks, pipes.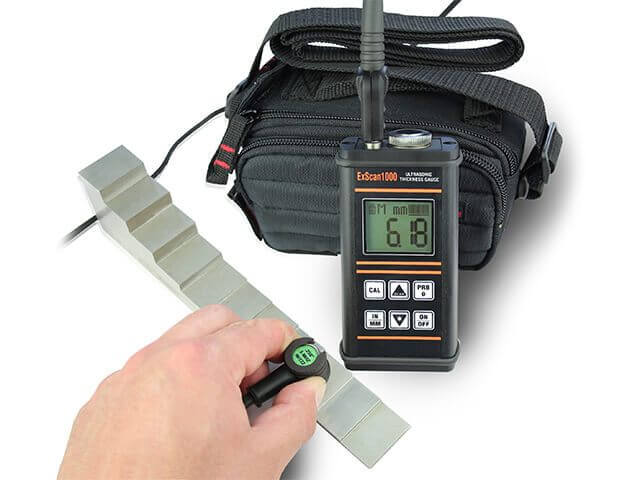 Pipe industry - measurement of pipe wall thickness; detection of pipe wall laminations and pipe wall thinning.
Oil and Gas industry - measurement of wall thickness of pressurized vessels, above-ground pipeline branches, underwater line manifolds of main gas pipelines, gas and oil tanks, as well as pump and valve bodies.
Railway - thickness measurement of railway wheel discs during their production.
Transducers
---
Physical characteristics
Weight (including batteries): 300 g

Overall dimensions (W×H×D): 125 x 70 x 30 mm

Operating temperature: -20 to +50 ºС

Run time (with display backlight switched off) on alkaline batteries: 200 hours
on NiCad batteries: 120 hours
Probes
Probe type: Dual element (T/R)

Frequency range: 1 - 10 MHz

Connector type: LEMO

Cable length: 2 m.
Power source
Three "ААА" batteries: 1.5V alkaline or 1.2V NiCad
Display
Display type: FSTN/POSITIVE LCD.

Display size: 30mm (H) х 25mm (W).

Functional backlit display to be used in poor light conditions.

Measurement readings in inch, in/µs, mm or m/s.

Stable measurement indicator.
Measuring characteristics
Display mode: material thickness.

Measuring mode: PE.

Measuring rate in "Measuring" mode: 4 readings per second.

Measuring rate in "Scanning" mode: 16 readings per second, with minimum thickness record.

Range: 0.63 - 500 mm (0.025 - 19.999 in)

Accuracy: ± (0.05 + 0.002×Hm) mm

Resolution: 0.01 mm (0.001 in)

Velocity range: 1250 - 14000 m/s or 0.0492 - 0.5511 in/µs

Calibration options: single point, double point, velocity

V-correction: automatic

Zero calibration: manual (internal reference standard for thickness)
| | |
| --- | --- |
| Item | Q-ty, pcs. |
| Ultrasonic thickness gauge ExScan1000 | 1 |
| AAA batteries | 3 |
| Soft bag | 1 |
| 0.25" 5 MHz ultrasonic piezoelectric transducer | 1 |
| Transducer`s shoe | 1 |
| Operating manual | 1 copy |