OKOndt GROUP companies supply NDT equipment to more than 70 countries
We produce various NDT instruments – from handheld flaw detectors to complex automated inspection systems, which are available worldwide through our network of distributors. In addition to sales, we provide post-sale and warranty services for all our products.
Our equipment utilizes a variety of state-of-the-art methods and techniques for nondestructive testing, including ultrasound, phased array, time-of-flight diffraction (ToFD), electromagnetic acoustic (EMA), eddy current, eddy current array, as well as a wide range of other conventional and custom approaches. We specialize in identifying the appropriate technique or combination of techniques to meet your specific needs.
Our flaw detectors are commonly used in the following industrial sectors:
railroad
power & aerospace,
gas and oil & metallurgy,
machine building & manufacturing.
The equipment produced by OKOndt GROUP improves the quality of our customers' finished products and enhances the safety of their infrastructure.
Eddy current techniques are applied in nondestructive testing of surface and sub-surface layers (detection of metal discontinuities), structure analysis, estimation of coat thickness, dimensions, chemistry, and heat treatment quality. Eddy current testing is based on the analysis of the interaction between external and eddy current electromagnetic fields that are induced in test objects. Eddy currents are electric current loops which are excited in a conductor while changing the magnetic field that permeates it. The distinctive feature of eddy current inspection is that it can be performed without any contact between a flaw detector and object under test. The interaction is normally achieved at a short distance which is, nevertheless, sufficient for moving the probe relative to the object. This enables the procurement of excellent measurements even when test objects are moving at a high rate of speed.
The electromagnetic acoustic (EMA) technique is a combined method of nondestructive testing based on three effects of the interaction between magnetic fields and the test object: magnetostrictive, magnetic, and electrodynamic effects. The electrodynamic effect is caused by inducing eddy currents in a conductive material that interact with constant magnetic field, which, in its turn, initiates crystal-lattice vibrations (whereas elastic acoustic oscillations occur due to mechanical stresses). EMA transducers are capable of generating horizontally & vertically polarized, longitudinal, shear, Lamb, and Rayleigh waves. Horizontally polarized shear waves have minimum attenuation, diffraction, and metal structure refraction coefficients. The EMA technique allows for noncontact ultrasonic examination of material integrity at high temperatures.
NDT ultrasonic inspection techniques allow the identification of defects located at a considerable depth in various materials, products, and weld joints. Compared to other nondestructive testing methods, ultrasonic flaw detection has significant advantages: a high sensitivity to the most hazardous defects like cracks or incomplete penetration; high capacity; and the ability to supervise the testing directly from an operator's workplace with no process interruption – all at low operational cost. Ultrasonic examination is applied in a wide range of industries: power, heavy machinery, railroad, ship building, and the chemical sector. Hundreds of thousands of meters of structural welds, tens of thousands of pipe joints, boiler units, rail weld joints, as well as the quality of pressurized tank parts, forgings, tubes, rolled plates and other products are annually inspected by means of ultrasonic NDT techniques.
Meet us at world famous Annual Conferences and Exhibitions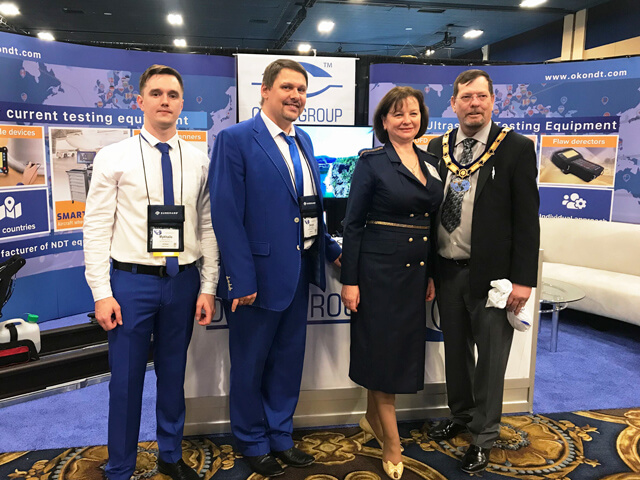 ASNT Annual Conference
(Long Beach, USA)
WCNDT Exhibition
(Munich, Germany)
Aerospace Event
(Filton, Bristol, UK)
ECNDT
(Prague, Czech Republic)
NDE
(Pune, India)
WCNDT
(Durban, South Africa)
ECNDT
(Gothenburg, Sweden)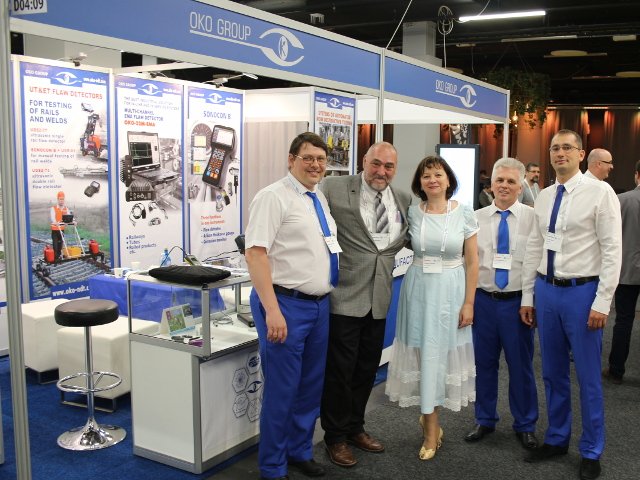 UPCOMING EVENTS
13th ECNDT Conference (ECNDT 2023)
3-7 July 2023
Praça das Indústrias
1300-307 Lisbon, Portugal

We will be glad to meet you there.



Appoint a meeting!
Railway Interchange 2023 (RI 2023)
October 1-4, 2023
Indianapolis, IN, USA
Largest combined railway exhibition and technical conference in North America!

Our Booth Number is 4055
We are pleased to invite you to visit our booth!
OKOndt GROUP in REMSA Exhibit Hall of Indana Convention Centre

Appoint a meeting!
20th WCNDT (South Korea)
27-31 May 2024
20th World Conference on Non-Destructive Testing (WCNDT 2024) in in Seoul, South Korea.

Get to know our NDT equipment at the booth C1.



Appoint a meeting!