On 11 December 2017 in Swansea, UK, the specialists of our partner Oceaneering International, Inc. conducted a test drive of the new equipment for non-destructive testing of pipeline welds - TOFD.Pro and TOFD.MAN systems produced by OKO Association Group. A distinctive feature of both types of the equipment is wireless data transmission from scanners to PC via Wi-Fi during testing.
TOFD.Pro system is more suitable for testing large diameter pipes, with free access to the welds. All electronic units of the system are placed on the scanne.
In contrast to the above system, TOFD.MAN is designed to test pipes of smaller diameter or pipes that are difficult to access, including the cases where testing requires the use of climbing equipment. This system utilizes a different arrangement of the electronic units that are placed in a release jacket, which helps reduce the weight and overall dimensions of the scanner.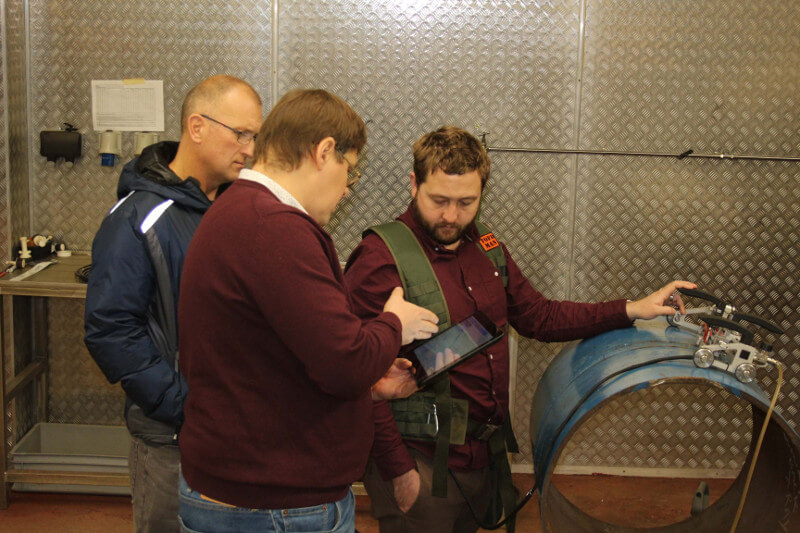 Functional check of the equipment was performed on full-size specimens at the Technical Center of our partner in UK. The measurements were taken in turn, both by employees of our company, and by colleagues from Oceaneering International, Inc.
The test drive was a success, and went smoothly. Most of all, our partners liked the mobile and light TOFD.MAN that allows to carry out testing in extremely inaccessible places without much effort.
In the natural course of discussions with our partners, we exchanged the opinions on functionality of the equipment, and the wishes for further development of promising products.